SMASH HEADS IN THIS LOCAL COOPERATIVE PLATFORMER GAME!
The aliens are here to destroy it all! We need you, brave caveman, to save this prehistoric world. If you are good enough and you think this challenge is not stronger than you, go ahead! Or team up with up to 3 of your friends and enjoy this 4 player co-op madness as you work together to set your world free of the invaders as you advance and discover new striking places. Embark on the adventure of Caveman Warriors by choosing between Jack, Brienne, Moe and Liliana as each hero has different attacks and abilities that are the key to solve specific situations of this journey. Experiment with them all to advance through our beautifully crafted 2D levels and beat the crap out of these crazy enemies. Fight dangerous and unique bosses and prepare yourself for the unexpected gameplay twists that will require the best out of every caveman!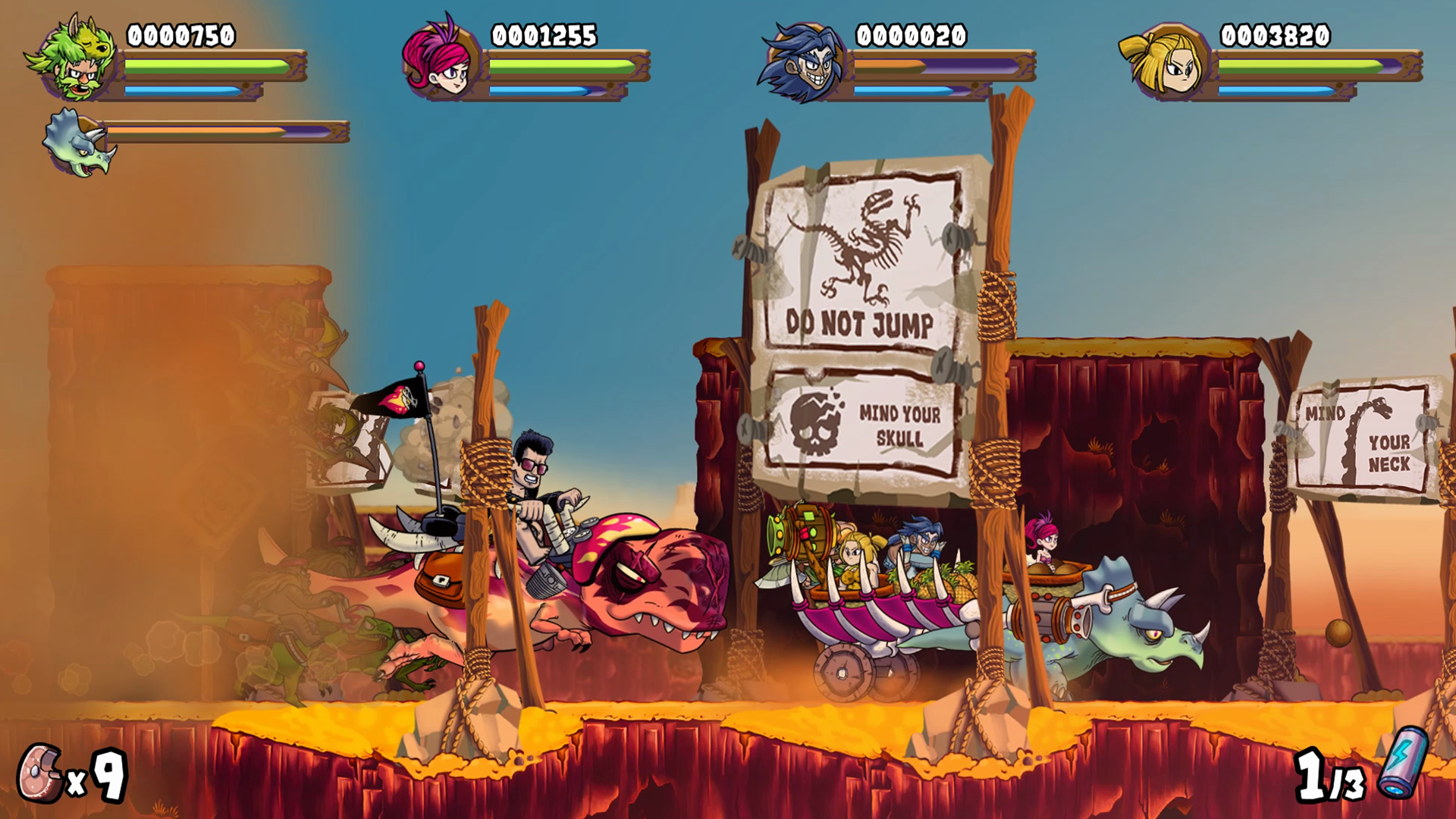 Forget about beating the game in an afternoon, the difficulty will make you go back in time and revive those '80s arcades, where only the best could manage to reach the end of the game. Do you enjoy gameplay twists? Welcome home, then! From riding dinosaurs while shooting pineapples to a raging rider boss. Doesn't that sound crazy enough? Then wait until you find out the dimensional portals that will make you ride an aircraft. Does that includes an aerial boss battle, you're wondering? You're damn right!
FEATURES
Different playable characters: Play by yourself and choose one of the playable characters, but don't worry! You can change your character really easily at anytime in the game and play with them all!
1-4 players local co-op: You can also play with one, two or three friends and just as by playing alone, change your character throughout the game. No repeating characters though. Work together to become unstoppable!
Varied Enemies: Each level has different enemies that all work differently, watch out as they can catch you unguarded.
Secret Levels: Aside from our different playable levels, discover secret levels inside the game for more excitement!
Different game mechanics: Our game has different game mechanics. Most levels are platformers but we also have a runner like level!
Challenging: Challenge yourself to unlock our different achievements!